Natural Gas, Electricity, and Renewable Energy for the World Today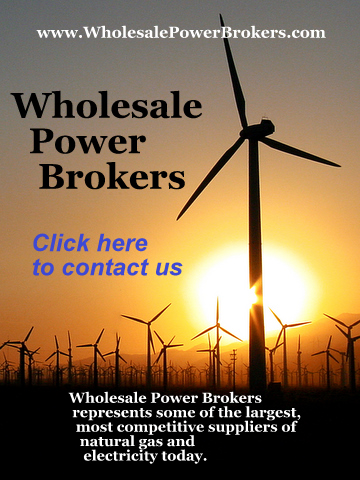 Wholesale Power Brokers is ideally suited to match electric power producers and suppliers of natural gas, electricity, and renewable energy with natural gas and electricity commercial buyers and end-users throughout the United States. Wholesale Power Brokers is an energy consultancy and sales organization, representing some of the largest, most competitive suppliers of natural gas and electricity today. We provide one stop shopping for firms that produce electrical power using wind, solar, geothermal, or other green renewable energy sources and want to find someone to purchase that power on a wholesale basis.
We pride ourselves on being nimble and quick on our feet, cutting out months and months of forms and red tape by introducing our clients to independent wholesale energy buyers, who are not utilities themselves, but rather long time, well established firms who sell wholesale electricity to end users in states that allow deregulation.
The importance of having a qualified and financially sound buyer of renewable energy can not be overstated when developing your wind and other renewable energy projects. Investors are looking for solid reassurance that the electricity generated now and in the future is going to have qualified and sustainable buyers. We can put you in touch with electricity buyers and help you negotiate Power Purchase Agreements that are financially sound and beneficial for the long term for all parties involved.
Wholesale Power Brokers is here for you. We have over 100 man years experience in negotiating multi-million dollar contracts. Make your wind and other renewable energy projects a success today. Maximize your return on investment in your renewable energy projects for the long haul.
We look forward to talking with you. Contact Wholesale Power Brokers today.